Camp Allendale: Providing opportunity for kids to grow relationships with God and others
Allendale Christian Camp and Retreat Center ministers to more than 2,700 campers each summer, offering exciting activities, like a low-ropes course, climbing tower, pool, waterslides, zipline, and many other activities for groups of all sizes.
In 2016, E91 Foundation gave Allendale $2,700 from the George Hall Fund for youth camper scholarships and $7,360.23 from the Tolan Donor-Advised Fund.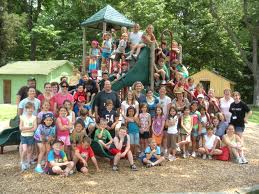 Camp Allendale has been the recipient of grants from the E91 Foundation for many years. Funds have enabled facility expansion projects, camper scholarships, CEO Succession Plan funding, matching gift campaign to proved a bus for camper transportation, and much more, according to Camp Executive Director Randy Pim.
"As with all nonprofits, camp finances are always tight," Pim says. "Regular income is needed for salaries, utilities, insurance, and normal maintenance and upkeep, leaving little funds for facility improvements. Funds received from the foundation are an excellent source for the extras that enhance our ministry."
Some of those extras include a fishing dock accessible by children with disabilities, decks on several buildings, new mattresses, and bunk beds. The more recent gift from E91 funded a patio and fire pit at the camp's beach shelter. It was erected in memory of a past E91 Foundation board member.
"The greatest impact of E91 grants has been in the lives of young people through our camper scholarship program," Pim says. "Through this program the camp provides camp tuition subsidy for children who otherwise could not afford to attend a session camp. Many times these children are not connected to a church, so their time at Camp Allendale is a rare opportunity for them to hear of the love that God has for them. The outcome for many is to accept Christ as their Lord and Savior. For others, it establishes a foundation to build upon."
As evidence of the difference the scholarships make, campers sent the following letters to the E91 Foundation board: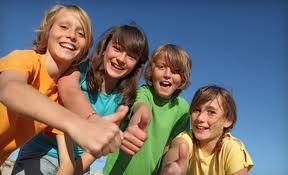 Thank you for the scholarship that enabled me to go. I had a great experience. I loved the Blob, worship time, I actually liked everything about it, especially worship time. I hope I have the opportunity to go again some time. —Michael
Thank you for funding some of my Allendale camp tuition. I had a great time! One of the things that was my favorite was the biplane and the giant swing! —Lucy
Thank you for the scholarship to be able to go to Camp Allendale this year. I learned so much about God and how he has an unstoppable plan. I learned the memory verse for the week. It said, "We cannot stop telling everything that we have seen and heard." Acts 4:20. It's so fun to play all these fun games and learn about God. My friends play around a lot and have a fun time at camp. I have enjoyed everything that you put together. —Carter
I had a great time at camp. Thank you so much for the scholarship that allowed me to have that amazing experience. It was one of the coolest things I have ever done, and it helped me grow tremendously in my relationship with God. Thanks again for the opportunity. —Bri
Thank you for my scholarship to go to Camp Allendale. At camp, I made many new friendships and reconnected with old friends. I also grew my relationship with God. During Encounter Time, we read passages from the Bible and had time to pray and just be by ourselves with God. Also, during chapel and small group time, we got to discuss with our group. We also did many fun team-building activities that helped us bond with our group. We did the low-ropes course, which every obstacle needed more than one person to be successful. We also did the ziplines, which everyone needed to be ready and helped with to be fun and safe. We also did many more activities that bonded our group and grew each one of us closer to God. Thank you very much or the opportunity to have a great week! —Megan
Thank you! I really enjoyed Camp Allendale. It was so much fun! —Abby
I am very thankful for East 91st helping me out paying for camp. If I wouldn't have gotten that tuition money for camp, I would never have gotten to have a wonderful experience by getting closer with God and new friends. Most of all going on the Blob and having all those thrills. The many new things I learned at camp, like a new song, but in Italian. One thing that I felt good about was seeing how much I donated and every other camper for missionary. There are so many words in the world to thank you. I do not know which ones to use. Gracias for giving me a wonderful experience at camp. —Jessica
I am a third grader. This is my third year going to camp. I liked camp because I got to make my dad into an ice cream sundae. I made lots of new friends. One of them was Jantay. He was good at carpet ball and tetherball. Jesus changed my life by showing all the things he made. He made all the trees, birds, and you and me. I liked the mission time. I LOVED the missionary! He taught us an AWESOME way of "Jesus Loves Me." Thank you for helping go to camp. —Noah
I am a second-grade girl. This is my second time being at Camp Allendale. My mom went with me. I got to see my brother and my dad there, too. My favorite thing about camp was listening to the missionary. I liked the song that he taught me. I made new friends. I liked swimming. I learned that in Italy there are only Catholic churches. It was fun when we put whipped cream in our counselor's hair and threw cheese balls at him. And then I saw my dad had to be an ice cream sundae. It was funny. I liked carpet ball and giving my money to the missionary. Thank you for giving me money to go to camp. I can't wait to go to camp next year. —Lilly
The Grant Process
Pim says the grant process has been easy to navigate.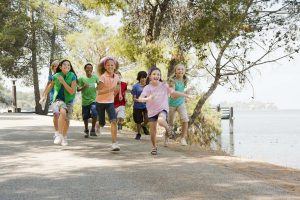 "Typically, my request includes a desired project for the funds requested. I couple that with how that particular project will expand or compliment our current ministry goals," Pim explains. "Foundation board members have been very helpful in providing advice on improving my grant application. My contacts with board members have always been positive. They truly want to provide assistance to those requesting funds. It is apparent to me that the board wants to give money to advance Kingdom work."
Not only does Pim encourage nonprofit Christian organizations to apply for a grant from E91 Foundation, he says those planning to make a charitable contribution should also consider E91.
"The Foundation board takes seriously their role of being good stewards of what others have entrusted to them. They have a global and local approach to what organizations are given consideration for grants. The board also does an excellent job of requiring accountability of funds provided to the organizations. This insures that the grants are utilized to maximize the Kingdom impact that is desired by those who have provided the funds originally," Pim says, adding that the camp's relationship with the foundation is invaluable.
"Camp Allendale has enjoyed a rich partnership with East 91st for many years. Each summer, the church and the camp have the opportunity to reach countless young lives for Christ. Children from E91, but also from all of central Indiana."